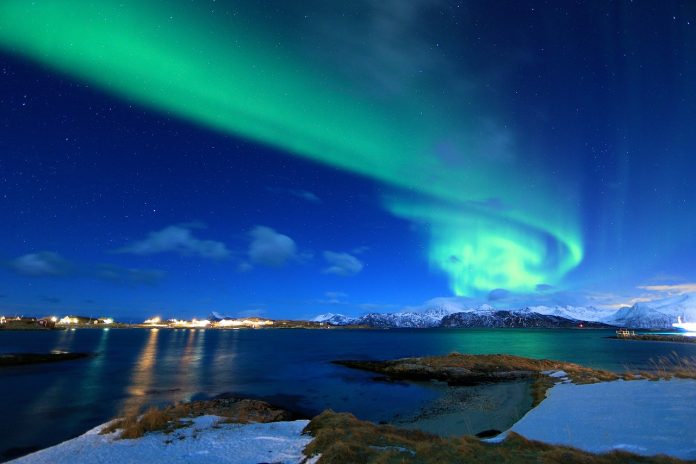 What is Norway's Northern Lights?
Coronal Mass Ejection is a gas that reaches earth and colloids with the earth's magnetic field. It then interacts with the atmosphere and releases energy which we see as "Norway Northern Lights".
Its belt hits Northern Norway over the Lofoten Islands and following through coast up to the North Cape and beyond, so different places the different views, you can see the Northern Lights in Lofoten, but in Tromso 500 kilometers further north, it could be a different angle view.
How "Northern Lights" Occurs?
Northern Lights' scientific name is "Aurora Borealis", it is one of the natural wonders in Norway, will see how the Northern Lights occurs: Phenomenon originated on the Surface of the Sun. During this solar activity, it regularly releases a gas called "Coronal Mass Ejection (CME)", within 2 or 3 days this gas will reach earth.
If so this gas collides with the magnetic field of the earth, particularly this act causes complex changes to the magnetic tail region which generates currents of charged portions, then these flow along with lines of magnetic force into Polar Regions.
When these particles collide with Oxygen & Nitrogen atoms, then that produces lights around 100 km above the surface and this could happen during any time of the day.
The above scientific act produces the "Northern Lights", so it is difficult to see during the day time without proper eye wears but in the night time you can see it very clearly, the Northern Lights produces the colors such as "Pink, Green, Blue, Violet and Occasionally Orange & White".
Amazing Facts About Norway
Officially Norway is "Kingdom of Norway", it is surrounded by "Sweden, Finland, Russia & Denmark", it has coastlines like "North Atlantic Ocean & Barents Sea".
Norway is one of the most beautiful countries in the World, " Western Norway has cool summers and mild winters.
Eastern Norway is protected with Mountains and it has warm summers and cold winters". It is famous for its natural attractions such as "Mountains, Fjords & Midnight Sun".
Eastern Norway is also known for "Cultural Life, Cosmopolitan Cities & Architectures". It is especially known for its "Northern Lights" and the best time to visit "Northern Lights" in late August/September through the beginning of April.
Excited to know more about Norway's Natural Wonder??? If yes, will see in deeply
Stunning Natural Wonder of Norway is "Northern Lights"
Facts About Northern Lights
Northern Lights display caused by the collisions of electrons and the magnetic fields, its specific colors created by specific atoms and the Aurora's have been explored thoroughly, there are sunspot activities which affect the Northern Lights, basically, the tourist attraction is "Lights" and you can see the same in the Southern Lights.
The Best Places to See in the Northern Lights
Find a destination near Aurora Zone such as "Tromso, Lyngenfjord, Bodo, Lofoten Islands, Vesteralen Islands, Alta, Svalbard, Varanger, Narvik & Helgeland…
Also, you can view from Fairbanks, Alaska is the best place to view this "Northern Light" in the USA.
Best Places to See in Northern Lights
In addition to Northern Lights, you can do many things such as "Winter Fishing, Hiking, Skiing, Whale or Wildlife Safari & Northern Light Safari, etc.., and also you can see many hotels and local food stores, for more details please visit Northern Horizon: Home
How to Photograph the Northern Lights?
Keep your video camera ready to capture these magical moments, so be away from city lights and find a good spot, be prepared to capture the Perfect Moment or else you're accessible for local guides help, I hope this photography experience could be an unforgettable moment in your life.
How to Pack the Expeditions?
In winter the best months to see Northern Lights in Norway is October to March, before planning your tour you should check the weather but anyhow during the night time climate will be cold, so you must wear thermal suits & boots and during summer season you can wear "Fleece Sweater, Thin Woolen Socks, Hiking Boots, T-Shirts, Light Scarfs, Hats, Gloves & Long Trousers", so you can pack these personal belongings.
Interesting Things About "Northern Lights"
Peak "Northern Lights" seasons is November to March, once the spot is decided you will be taken to see the "Northern Lights", after waiting for hours you will start noticing the blended color splashes, the movement from ground to upward spreading widely, looks like touching the sky, it has beautiful colors "Pink, Green, Blue, Violet, Orange, and White" but sometimes it will show you most dominated greenish and sometimes it will show you all blended colors, it is a magical treat for your eyes, so definitely its visitors will amazed with this wonder of Norway, during this natural show you can have some snacks or coffee while enjoying "Northern Lights".
Definitely this tour will give you a feel like living in a "Magical" world, why are you still waiting? Together with your friends and families plan your itinerary for the next tour.
Hope this could be the most adventurers trip in your travel itinerary, for more details please visit Tours and Packages
Norway Welcomes Tourists
Visit "Norway" to feel the "Northern Lights, its magical sceneries are much beyond the human imaginations, this place is a treat for your mind, its natural resources are unbelievable, you should never miss the magical moments to feel at "Northern Lights in Norway".
In the above article, we explored many things about "Northern Lights in Norway", hope this article is more helpful for "Scenic Lovers"
"You should never miss a tour to "Northern Lights in Norway" in your life"